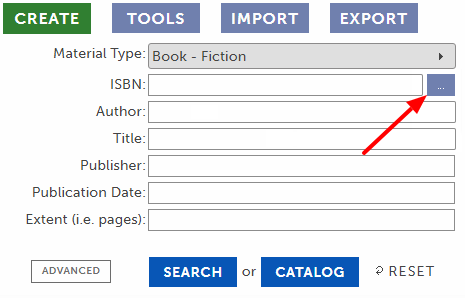 We've released a new BestMARC update today that adds a few new customer requested features to help you find and manage your MARC records more quickly.
Batch Search
First, we've added a new Batch Search capability. If you have a pile of books you need to find records for, this might be the easiest way to find new records. Click the new … button next to the ISBN search field to start.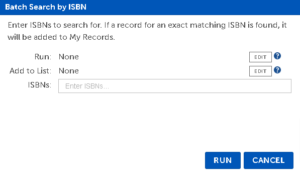 You can type/paste/scan in your list of ISBNs to find and hit Run and BestMARC takes care of the rest. If we find your record, it will show up in your My Records grid.
You even have the option to run a Workflow or Global Edit on records that are found, so we can create these new records automatically based on your library standards. You also have an option to add the newly-found records to a List if you'd like them separated for future review or processes.
A report at the end will display the number of records found and list the ISBNs that were not able to found.
Check out the full details on the Batch Search section of our User Guide.
We hope you enjoy these new features! As always, please let us know how you like using these new features and what else you'd like to see added.
New Filters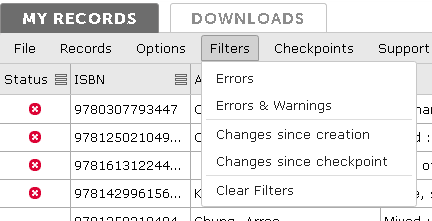 Next, we've added a new Filters menu to the My Records grid that helps you narrow down your records to just the ones you want to look at. You can now choose to view just the records with:
Errors
Errors & Warnings
Records with changes since they were created/imported
Records with changes since the last Checkpoint
What's nice is that you can also combine these filters with Lists or other Search filters you have already applied. So if you want to see just the records in a particular List that have changed, you can now easily do that instead of having to inspect the date columns and try to figure that out on your own.