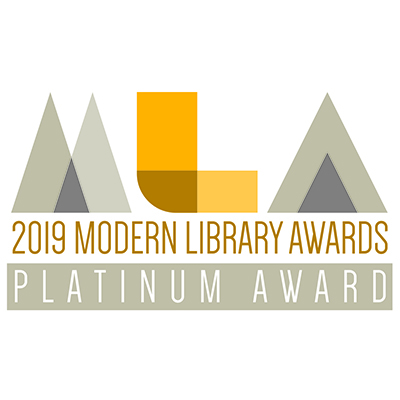 For Immediate Release
BestMARC Receives Platinum in 2019 Modern Library Awards from LibraryWorks
Verona, WI – January 10, 2019 – Mitinet Library Services, a leader in metadata management, is pleased to announce it has received a platinum award in LibraryWorks' fifth annual Modern Library Awards (MLAs.) The MLAs were created to recognize the top products and services in the library industry in a truly unbiased format. Products and services were submitted in the fall using a simple application, and then were posted on a private site with an enhanced description and attendant materials. These products were batched into small groups and sent to the LibraryWorks database of more than 80,000 librarians at public, K-12, academic, and special libraries. Only customers with experience with these products/services in their facilities were permitted to judge the products/services, resulting in a truly unbiased score.
Each judge scored the product on a numeric basis from 1-10 on a series of questions regarding functionality, value, customer service, etc.
"We set out to create the best library metadata system available. BestMARC has proven to be a great tool for expert catalogers and novices alike. We are fully committed to continue adding and expanding BestMARC's capabilities. What else would you expect from Mitinet?" – Bart Fitzgerald, CEO
BestMARC, released in 2014, is a MARC management system that makes processing and maintaining MARC records fast, easy and convenient. BestMARC Global was released in September 2017 and has features continually added. It has been distributed to approximately 5,263 libraries globally. Its preeminent features are:
Create – search or catalog records quickly and easily from scratch.
Edit – fix errors, run enhancements and global edits, and group them into workflows.
Share – global edits, workflows and templates seamlessly between users and can be re-run with ease upon import.
Jenny Newman, publisher and MLA program manager said, "It's hardly a surprise that Mitinet Library Services scored so well. They've been at the forefront of the industry since their company entered the market in 1989."
For more information about Mitinet and its products, please visit www.mitinet.com or call 1-800-824-6272.
About Mitinet Library Services
Our deep expertise and specialization in metadata management makes us your best partner in connecting knowledge seekers to the right resources by bringing ease, accuracy and speed to discoverability. With Mitinet on your side, library staff and learners alike are empowered to get the most value out of a library's collection.
About LibraryWorks
LibraryWorks helps administrators to make informed decisions about library technology, automation and software, collection development and management, facilities and furnishings, staffing, purchasing, and other areas that drive effective strategic planning and day-to-day operations. Our family of resources can enable you to identify best practices, monitor trends, evaluate new products and services, apply for grants and funding, post or find a job, and even enjoy some library humor.
About the Modern Library Awards program
The Modern Library Awards (MLAs) is a review program designed to recognize elite products and services in the market which can help library management personnel enhance the quality-of-experience for the library user and increase the performance of their library systems.