Welcome
MARCEdit

users

BestMARC sets the standard in metadata management. Whether searching, original cataloging, or maintaining existing records, BestMARC sets the standard. Our best-in-class online MARC management system makes processing and maintaining MARC records fast, easy, and convenient.

BestMARC Standard is the easiest tool to help you with MARC record creation and maintenance.
Get BestMARC Standard
for free
Get all the record searching, cataloging, and editing features by signing up for free today (a $299 value).
Searching

Search for records by entering as much information as you know about the item. BestMARC searches our high-quality database for results along with a collection of the top Z39.50 databases, including the Library of Congress. As users search for records, the BestMARC database improves by incorporating records from other Z39.50 sources.
Search Results

Search Results are compiled and ranked to match the criteria entered and the quality of the record from our database of MARC records. Cover photos help you find the correct record.
If you cannot find a record, click Catalog to create it. Your search criteria is automatically entered into your new record to save typing.
Start by using one of over 45 built-in material types, or create your own custom templates matching your own specifications.
Records are automatically formatted for AACR2 or RDA based on your preference.
Cataloging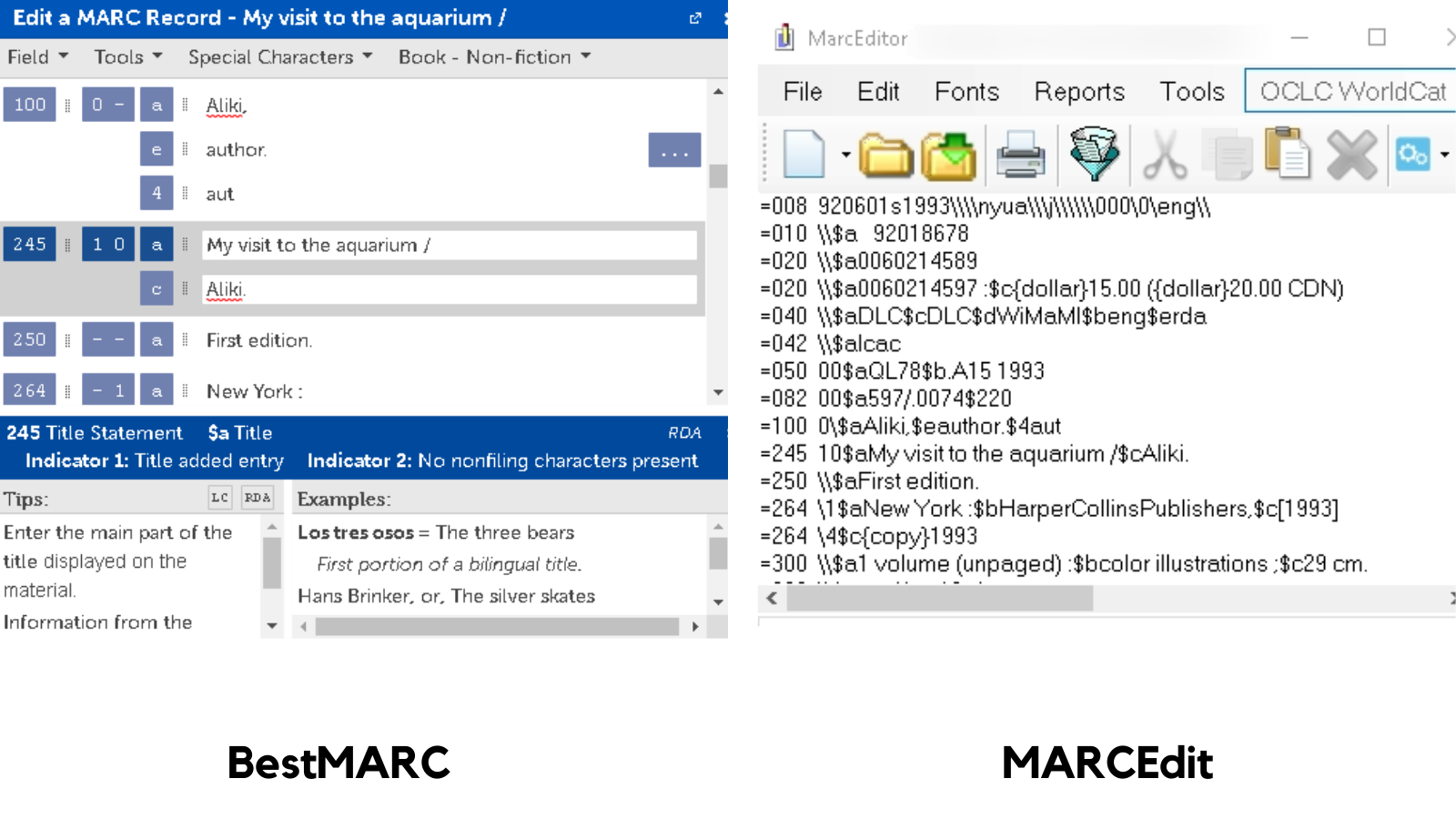 BestMARC's Editor guides you though creating a high-quality MARC record. Fields, Subfields, and Indicators are separated into their parts. A graphical interface guides you the entire way.
Simply click into a subfield and BestMARC shows you Tips and Examples to help you fill it out. Common fields and subfields are displayed by default based on the type of material you are cataloging.
ISBD punctuation is automatically applied when the record is saved.
BestMARC vs MARCEdit
Global
Plus
Standard
MARCEdit

MARC Record Editor

MARC Tips, Examples, Errors

Includes context-sensitive links to LOC and RDA Toolkit documentation

Built-in Record Templates

48
48
48
8

User-Created Record Templates

Record Source

Search More Servers

Z39.50 search

User-configured, one server at a time

Checkpoints

Side-by-side comparison of changes, rollback changes

Record Enhancements

Award Notes, Convert to RDA, Reading Programs, Record Repair, Subject Headings, Import Processing

Lists

Organize records into lists

Selections

Find smaller groups of records

Global Editing

Create and save powerful instructions to make batch changes to your database

Not saved between sessions

Workflows

Combine Enhancements and Global Edits sequentially for easy processing

Enhancements Only

Type Conversions

Convert between character encodings and file formats such as XML, MODS, OAI
Get BestMARC Standard
for free
Get all the record searching, cataloging, and editing features by signing up today.
Add an upgrade to your subscription to make BestMARC even more powerful. BestMARC Plus comes with streamlined record enhancement features and other key benefits to save you even more time. BestMARC Global adds customizable features for global edits and automated workflows making this our most powerful subscription.